Sand Volleyball in Asheville with Leah Wong
How Asheville's Original Craft Brewery became the best spot for volleyball in Asheville.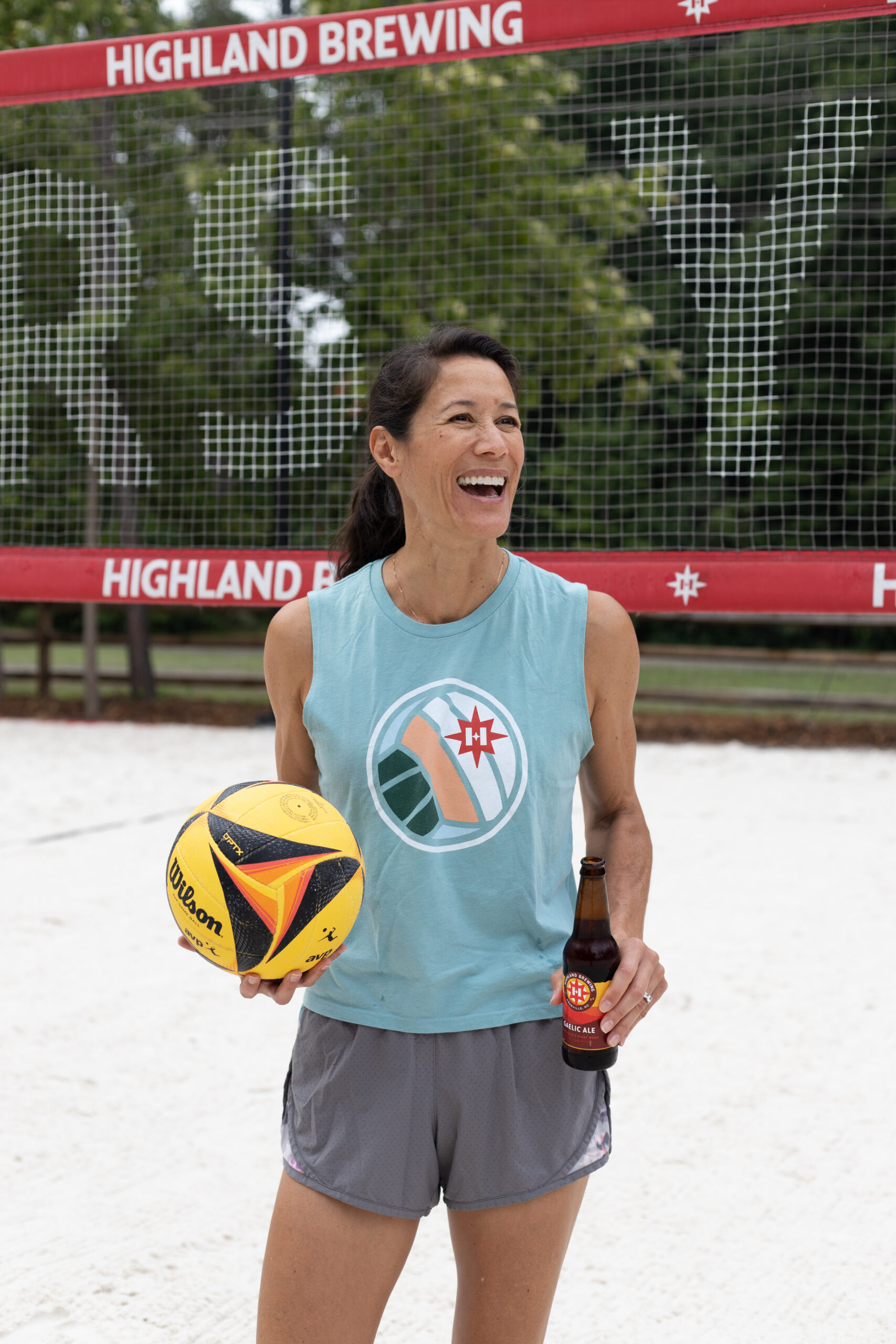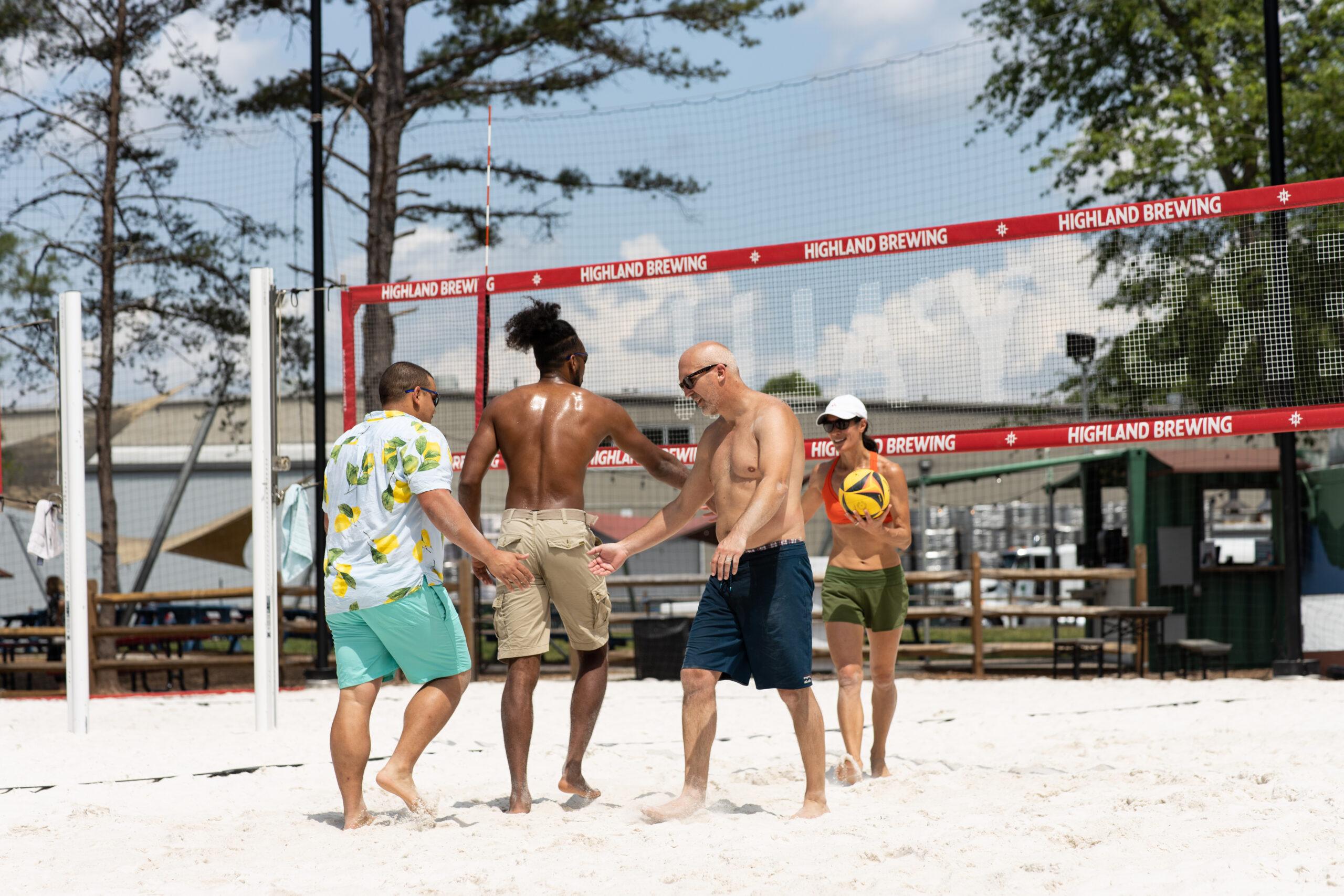 How I fell in love with sand volleyball
Me, circa 1995-2010: Running around for hours in sweltering summer heat, there's no shade, and I can't drink enough water to stay hydrated. I LOVE IT. These days were my favorite in my 20s and 30s playing volleyball. The sport has been in and out of my life for over 30 years. The start was in high school in Charlotte where our team had a dubious habit of winning two games and dropping the next three. Then I played on a UNC Chapel Hill club team for a year and on the sand courts at Ehringhaus dorm – or was it Hinton James… Back in Charlotte post-college, pick-up play at the YMCA stopped suddenly when the North Carolina weather warmed. When I found out everyone went outside, I followed suit and learned how to play grass and doubles at Freedom Park. I noticed the sand players nearby. They were good. I gave it a try and was… immobile. No vertical, not able to move. Frustrated, I complained about how hard it was to play in sand and someone said "you must not love the game."
Challenge accepted.
Over time I got my "sand legs" and I was hooked. Weekday leagues led to weekend tournaments. I played mostly in NC and SC but also got to travel and play in NY, MI, UT, and FL. My partners and I earned beer money a few times, and one trip to Florida. As I got older, I dropped the all-day tournaments and played friendly but competitive pick-up every chance I could. In 2012 I moved to Asheville. It took a while, but eventually I showed up at one of the two parks in town with sand courts. It was so good to be back on the sand. I had a new town and made some new friends, but we definitely needed some new courts…
Volleyball courts at Highland felt out of reach for years but when I moved here, my husband Brock came here, too. A craft beer fan, engineer, and general contractor, he salivated at the thought of building anything at the brewery. It's no small feat to "work for your wife" (his words) AND your father in law, but he more than proved himself with projects like the packaging hall, solar array, Meadow, Event Center, and Rooftop. With the new attractions, more people started coming to the brewery. As a next step, activities like trails, disc golf, and volleyball would add to the Highland experience and fit right in to our ethos and my passion. We studied other places with volleyball leagues, made some educated guesses, committed to building the best courts in town, and jumped in.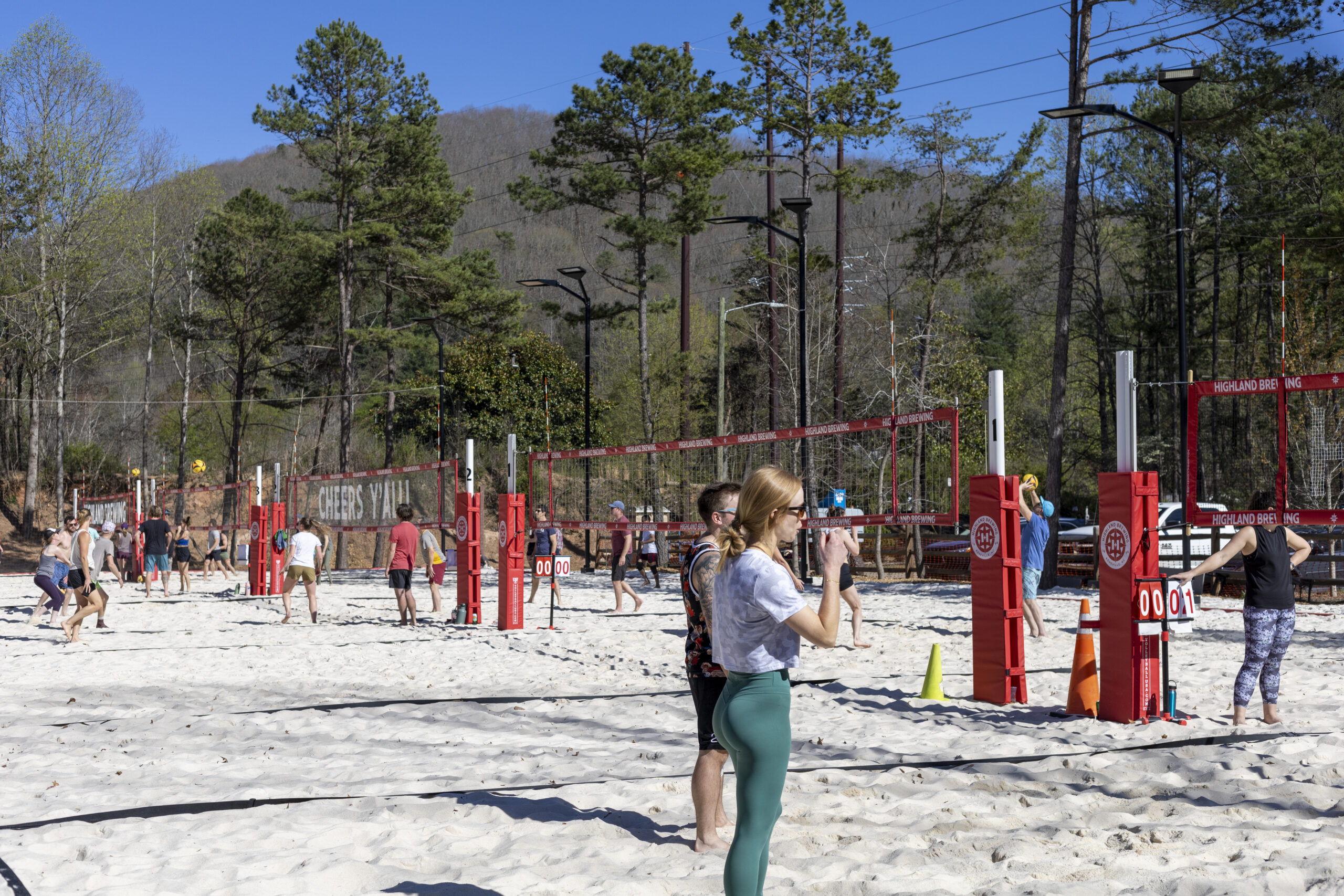 Sand Volleyball Courts vs. Grass Volleyball Courts
For us, the answer was always sand volleyball courts. We didn't even consider grass courts. Grass is great but has more injuries (like my ACL in 1998) and sand more easily offers options from sixes to doubles, and recreational to professional levels. We started out with building 3 courts and we're able to offer leagues in three formats: 6v6 (sixes), 4v4 (quads) and 2v2 (doubles). Our first full season of leagues was in 2022. Players came out of the woodwork! The leagues filled up in minutes and we had waiting lists to join. Pick-up was so full people started going back to the parks. So we built more courts…

As of spring 2023, we have five beautiful courts with everything players want – adjustable nets for women's or men's height, deep sand with drainage underneath to absorb our typically brief but torrential summer downpours, drinking water, a rinse station on a concrete pad, lights that aren't blinding, picnic tables, 20-foot nets around the courts, and 16 fantastic beers on tap a few steps from the sand. Brock even angled the courts north-south to reduce glare from the sun. It is heaven.

Volleyball at Highland Brewing
$5 pick up is typically on Fridays and Saturdays but the best place to check is the website – Visit Us/Recreation for the general set up or call 828-299-3370, option 2. All skill levels (ages 21+) are welcome! If you've never played, we've found most people will share tips on the basics and welcome you in. Ask if there's a beginners court. And check out Better at Beach for instructions on how to play.
Leagues are Sunday-Thursday. Most are co-ed. Sixes is the best place to start once you have a feel for the basics. Sets are not called in sixes. Quads is fast and fun and more competitive. Sets should have limited spin but refs are not provided so skill level will vary. Doubles is the most competitive and has different rules about how you can contact the ball, from setting to serve receive to hitting to blocking.
To develop the community of players and level of play, we plan to host clinics in the coming year. We also host occasional tournaments – sometimes in costume. Keep an eye on the website or social media for more info!
Court rentals are also available by the hour. Call us or email sports@highlandbrewing.kinsta.cloud.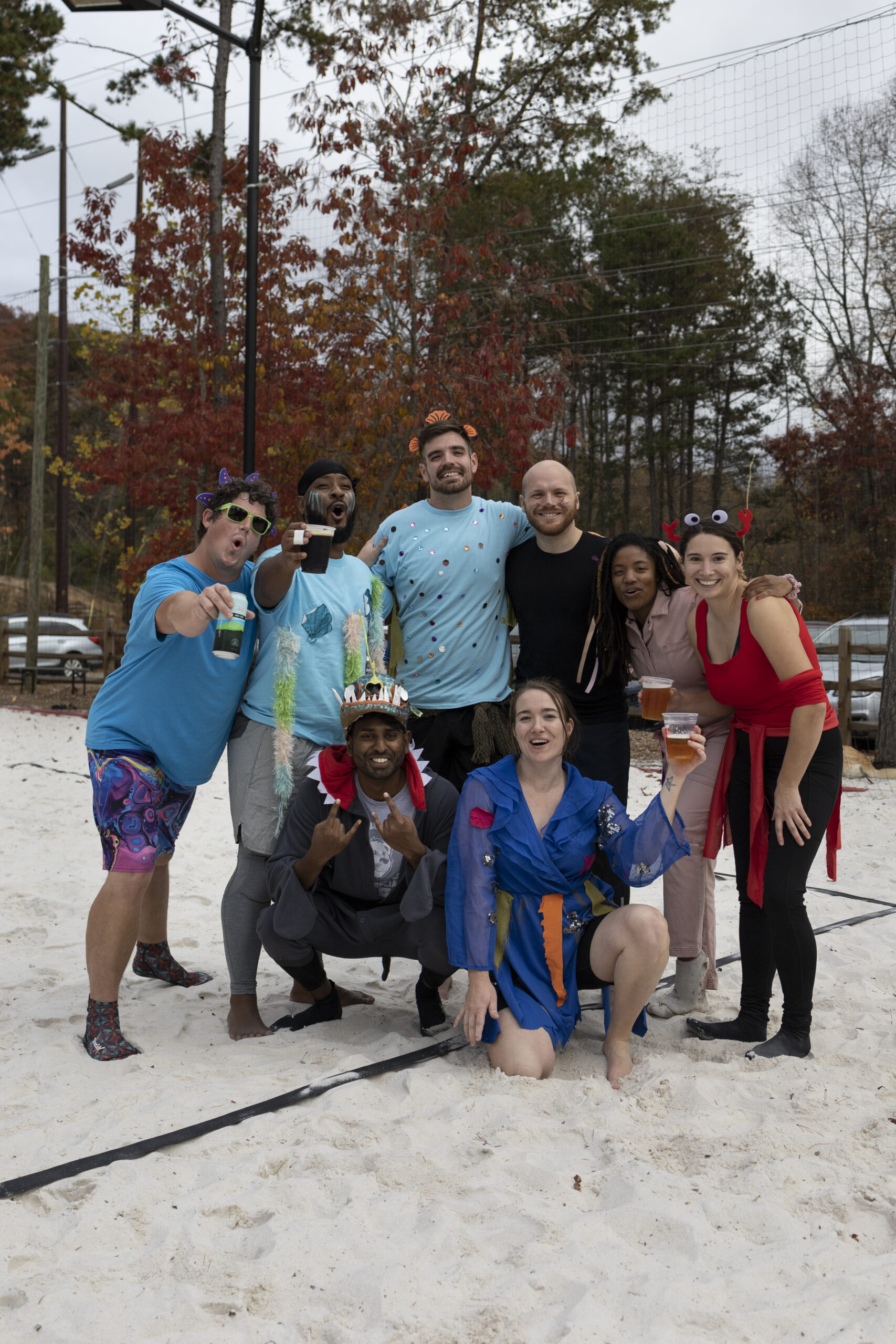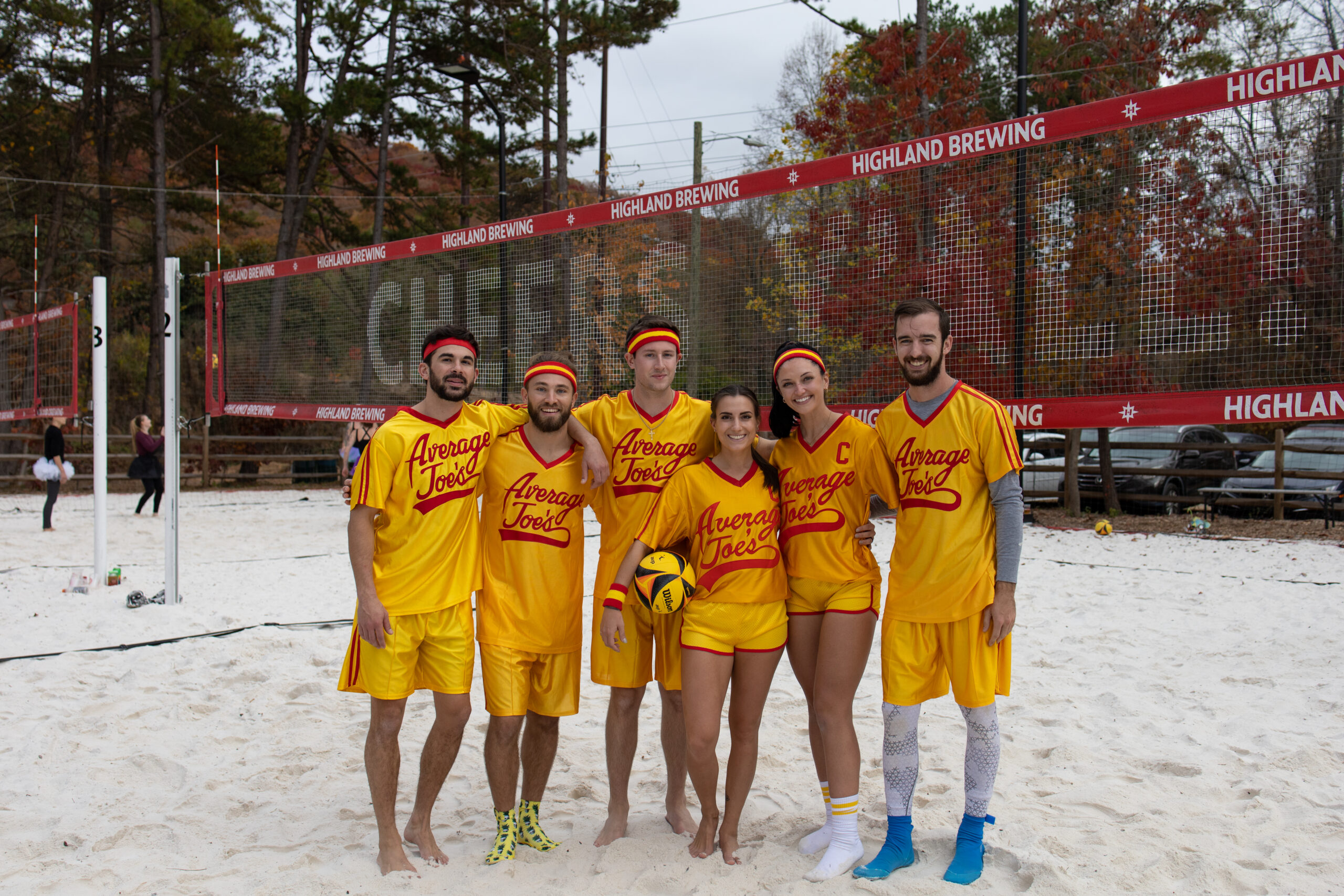 Brewery life offers me many amazing things but I have less time to play than in my peak volleyball days. More importantly, the years have left me with less mobility, more ibuprofen, and long rounds of stretching. But I'm still in love with the sport. I hope our players feel the same way.
-Leah Wong Ashburn, President & Family Owner of Highland Brewing Company