Raise your steins and dust off your lederhosen because it's that time of the year again – Oktoberfest season is upon us! And this year, we're not just celebrating the traditional Bavarian festivities; we're also toasting to a special milestone – 15 glorious years of our beloved Clawhammer Oktoberfest, a Bavarian-Inspired and Asheville-Made seasonal Marzen Lager. To make this celebration even more melodious, we've collaborated with our exceptionally talented Music Coordinator, Chris Norred, to curate a Spotify playlist that perfectly encapsulates the spirit of our beer and of the season. This curated musical journey is a symphony of flavors and sounds, crafted to enhance your sips of Clawhammer and transport you to the heart of the Appalachian mountains no matter where you are. So, whether you're clinking glasses in a bustling beer hall or enjoying the crisp autumn breeze in your own backyard, let the harmonious blend of our Clawhammer-inspired tunes elevate your experience and make it truly unforgettable. Pop open a cold brew and keep reading to get a song-by-song run through of Chris's thought process in creating this playlist for Highland.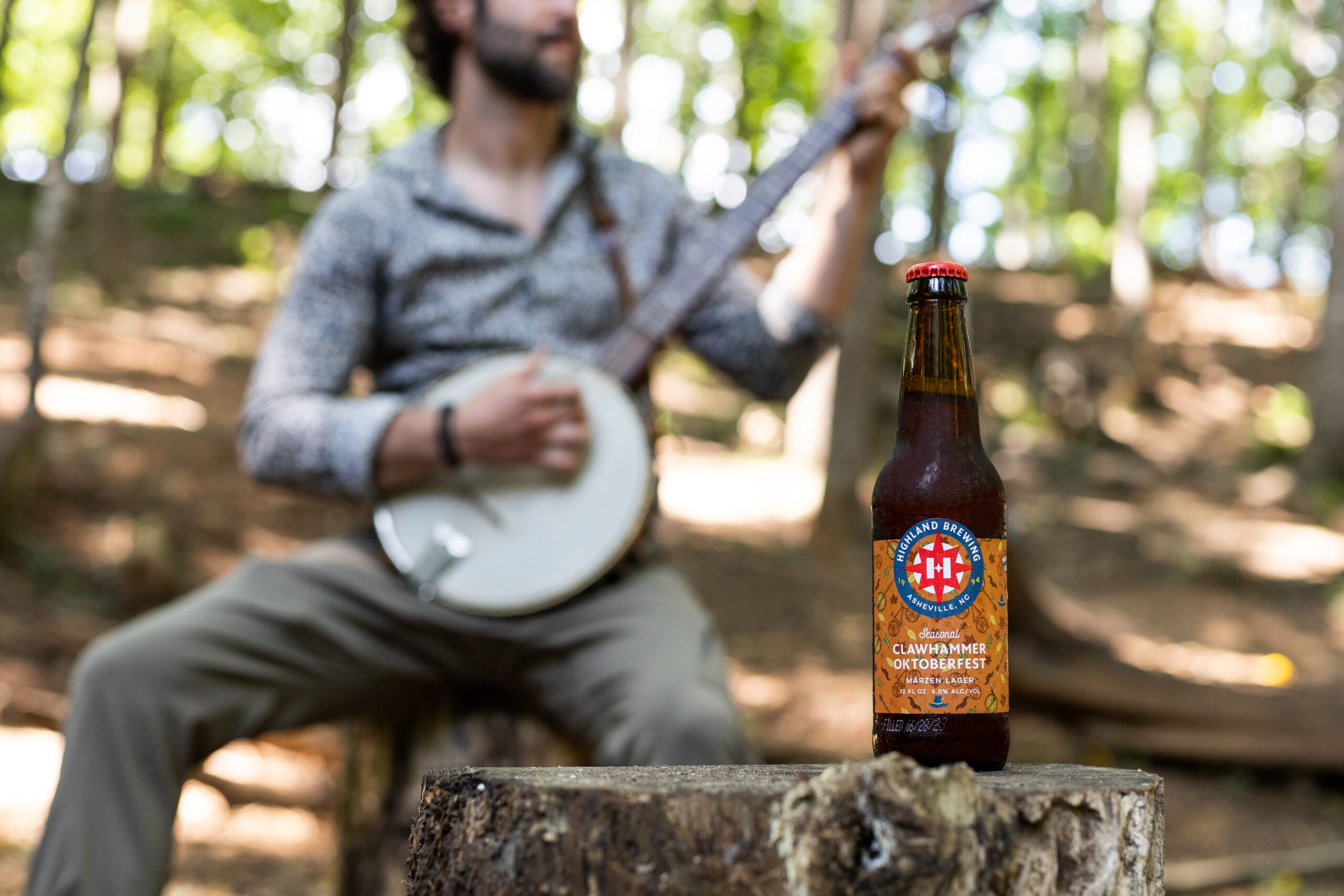 Angeline the Baker – Pine Tree String Band
We open this playlist with a traditional clawhammer-style banjo number to honor the Appalachian tradition and celebrate the title of our seasonal beer. For those of you who don't know, we chose the name "Clawhammer"  in honor of a local Western NC mountain, Clawhammer Mountain, as well as the popular clawhammer banjo style that originated here in the Appalachian Mountains.
Don't Carry It All – The Decemberists
"Raise a glass to turnings of the season". In this indie-rock hit, The Decemberists capture the changing of the seasons of life and spirit of a community coming together.
New Gardens – Olivier Bogé
This song highlights the more mystifying and melancholy elements of the fall season.  It's perfect for an early morning ride on the parkway before the sun has risen. Try it, trust us.
Our Little Secret – Béla Fleck
The interplay of instruments in this Béla Fleck tune reminds us of the playful elements of autumn while still capturing the mysterious feel. It can be enjoyed all season long in every situation.
Blackjack Davy – Mighty Poplar, Andrew Marlin, Noam Pikelny, Chris Eldridge, Alex Hargreaves, Greg Garrison
This traditional song from the 1700's is perfectly made for the gypsy-hearted. The story seems to take place in the hills of Appalachia and it's a very lively interpretation of an infamous love affair.
Black Creek – Carling & Will
We return to another clawhammer-style banjo composition here, placed intentionally for self-reflection and daydreaming as the weather begins to cool and the whispers of winter begin to call upon us.
Autumn Leaves – Martin Taylor, Acoustic Jazz Quartet, David Grisman
What fall playlist could exclude Autumn Leaves? Take note of Martin Taylor's exceptional guitar work on this rendition of the American Standard. The melody is perfectly suited for Grisman's mandolin as well.
Lilac – Tigran Hamasyan
Yes, we know that the lilac is a spring flower that only seldom blooms in the fall… However, this melody conjures up thoughts of the purple magic hues that mysteriously creep into fall, if you are lucky enough to see it. This song feels like the theme of the falling leaves.
Distant Land to Roam – Mighty Poplar, Andrew Marlin, Noam Pikelny, Chris Eldridge, Alex Hargreaves, Greg Garrison
This one goes out to all those who are celebrating the turning of the season by facing new beginnings and changes in your life.  Sometimes we are called to travel or move our roots, and this song is for everyone brave enough to face that calling.
Interlude & Overbellow Reel – Appalachian Picking Society
These two songs from the Appalachian Picking Society mark the middle of our musical adventure and feature the energetic sounds of the clawhammer-style banjo once again.
My Mother Thinks I Am a Lawyer – Noam Pikelny
This original composition by renowned American banjoist, Noam Pikelny, seems to bring a smile to our faces every time we listen to it and reminds me of once again of the playful elements of autumn.
Minor Dispute – Petros Klampanis
We return once again to a more mysterious sound here, something that encapsulates the uncertainty of change. The string sections of this composition really help carry the haunting melody along.
Hard Times – Gillian Welch
This song written by Gillian Welch in the early 2000's sounds like it came from a time long past. Our first tear-jerker on the playlist includes a shout-out to Highland's hometown of Asheville, North Carolina! This tune reflects the changing of time and seasons as well as the struggles some of us face to keep up those changes.
Presentment/Chrono Trigger – The Hit Points
Do you hear the pendulum swing in this song? This one transports us through time to a new era and supports the stylistic shift in the next folk song on our list.
Rivers and Roads – The Head and the Heart
Let's keep the tear-jerkers close together, shall we? This song is such a wonderful, modern-American ballad that reminds us of the way life shifts and changes like winding rivers and roads through the mountains we call home.
Appalachian Rain – Larry Keel
After that last ballad, I feel like we need the pick-me-up of the high-energy banjo on this composition. This song almost seems to create the sensation of falling, which is the perfect metaphor for the season.
Cluck Old Hen – Noam Pikelny Steve Martin
Had enough of the banjo yet? We hope not, because here is a special song featuring Steve Martin and Noam Pikelny. This is the clawhammer banjo at its finest with dazzling improvisation from Noam Pikelny.
Autumn Town Leaves – Iron & Wine
Meant to charm, this lovely tune makes us proud to live in such a beautiful fall travel destination. The words bring to light the lovely imagery of an autumn in Asheville.
Dance of the Pales – The Hit Points
How could we forget the more ghostly element of this season? From the famous vampire killer game, Castelvania, this arrangement is undoubtedly steeped with the eerie essence of the famous ghost lore in this region.
The final three songs on this playlist are meant to be grouped together. Listen one after another for a true taste of the Clawhammer vibes.
Appalachian Waltz – Mark O'Connor, Yo-Yo Ma, Edgar Meyer
This breathtaking cascade of melancholy string harmonies beckons us to meditate on the magic that these mountains provide in every season, but especially when the leaves begin to turn.
Far Away From Home – Gilad Hekselman, Eric Harland
It's true that the Appalachian Mountains are full of mysteries and secrets unknown, but let us not forget the depth and allure of an autumn Appalachian sky as well. Look to the stars in wonder and let this song's dreamlike melodies carry you far away from home.
Short Trip Home – Edgar Meyer, Mike Marshall, Sam Bush, Joshua Bell
Why is it that the trip home always feels shorter than the journey there? This selection is meant to remind us that no matter what changes and uncertainties we face, things will always fall into place. Pun intended.