Volleyball and Disc Golf at Highland Brewing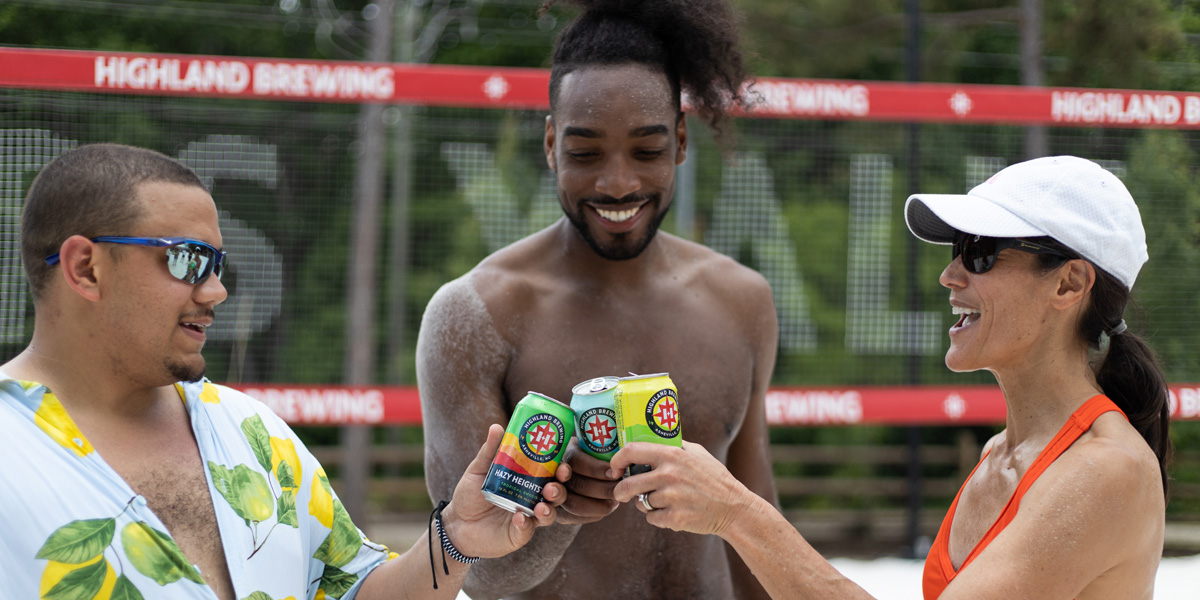 VOLLEYBALL AT HIGHLAND BREWING COMPANY
Highland has five professional-grade, sand Volleyball courts that are located in the Meadow, our outdoor guest space.
Stay in the know with Highland Sports + Recreation. Sign up for our newsletter to keep up to date on all of our recreation opportunities including league registration dates, tournaments, events, and pick-up play. 
RESERVATIONS & PICK-UP, WHEN TO PLAY
Sunday
Highland 2v2 & 4v4 League 10am-6pm
$5 Pick-up
4pm – 8pm*
Monday
Courts open for rentals 2pm-5pm
ASSC League
6pm – 9pm
Tuesday – Thursday
Courts open for rentals 2pm-5pm
Highland Leagues 5-10pm
Friday
Courts open for rentals 12pm-5pm
$5 Pick-up
5pm – close*
Saturday
Private League 10am-2pm
$5 Pick-up
3pm – close*
*PICK-UP CLOSED: 9/9, 9/30, 10/7, 10/14, 10/28, 11/10, 11/11, 11/12
PICK-UP OPEN: 9/3 12pm-close; 9/4 12pm-5pm
$5 Pickup: April – November. Players must be 21+. Check-in at the Meadow Outpost or Bar (or, if closed, the Taproom Bar) to pay, get a wristband, and sign a waiver. Wristbands are required to play.
Reservations: Court reservations available for $25/hr per court. Email sports@highlandbrewing.kinsta.cloud or stop by the Highland bar during open hours to reserve.
Court Availability: Courts open based on weather conditions and may close without public notice. Please call the Taproom for the current court status. 828-299-3370, Opt. 2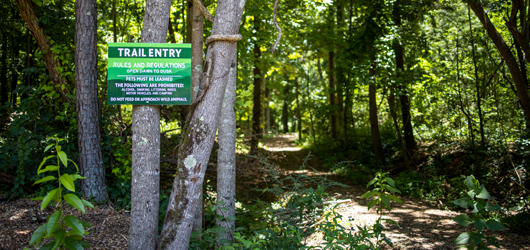 Hiking Trail
Embark on a new adventure along the walking trails that sprawl throughout the brewery's 40-acre campus. The trails are currently 1.2 miles and take folks through the woods and along Gashes Creek that runs in front of the brewery.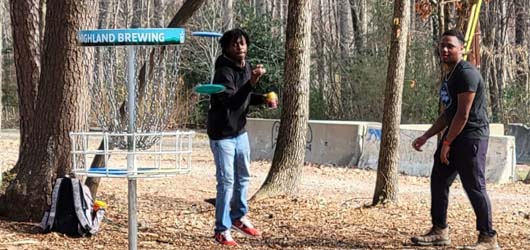 Disc Golf Course
Highland's disc golf course features 3 putting baskets for you to practice putts and short approach shots. The full 18-hole course features multiple teepad and target locations to for both recreational and experienced players.
The front 9 is beginner-intermediate friendly with technical lines and slight elevation changes. The back 9 features more elevation change, massive trees, water hazards, technical fairways, challenging par 4's, and more lengthy holes meant  for intermediate and advanced players.
Play free. Park free. Drink beer we serve to avoid penalty. Beverages are available for purchase in the Taproom or Meadow bar during open hours. Food trucks on-site during Taproom Hours. Please no glass or smoking on the course.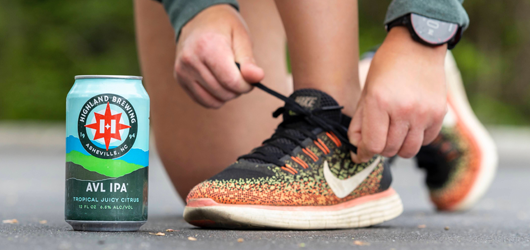 Run Club
Come out to the brewery, get a run in, drink some beer and socialize. Runs head out from the brewery every Wednesday at 5:30pm. All runs are a choose your own adventure out and back, with up to 6 miles possible down Azalea Rd. If you are new to us and don't have a buddy to show you the way please arrive a little early so we can get you sorted out!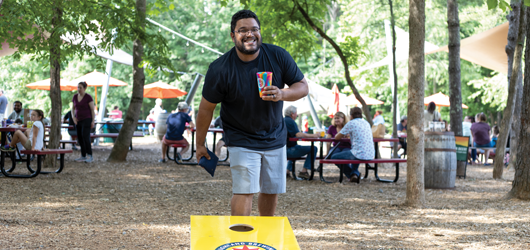 Tuesday Night Co-ed Corn Hole League (2 X 2) 
• League play every Tuesday between 6-9pm
• Games are 2 X 2

• All players must be 21+

• Fall league registration opens 9/1 at 8am

• Teams require a minimum of 2 players with 4 players maximum

• Absolutely no outside alcohol permitted on Highland Brewing property