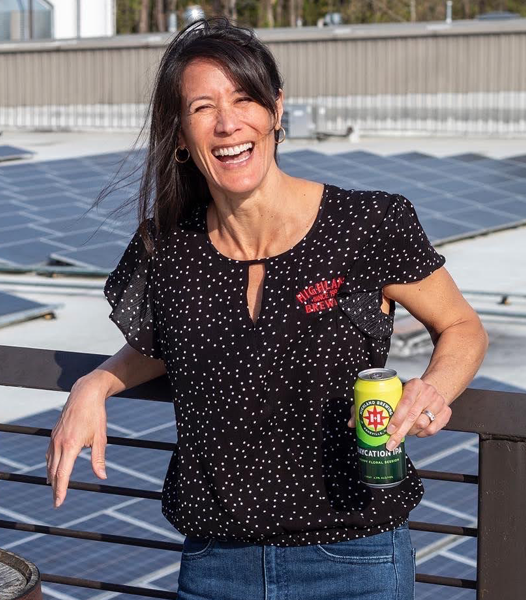 In as many ways we take in our surroundings, we look for ways to give back. Environmental sustainability is one pursuit.
Our largest effort was our solar array. Under peak conditions the system can create up to 324 kW DC – more power than we can use on sunny days. The expansive roof is now about half covered by panels and is in full view from the rooftop bar.
The latest:
Beautiful 16-foot white oak bar tops in the Event Center were harvested from our property.
6th largest solar array of all independent, craft breweries in the USA
22nd largest brewery solar array in the world
The light pole bases in front of the event center are made from irreparable kegs
General Operations
Ethos of reduce, reuse, recycle throughout company
Use of variable frequency drives to reduce energy consumption
We take advantage of programs from the state and the utility companies to provide energy audits, for natural gas, steam boilers, electricity, etc.
Fabrication shop reduces waste and new purchases
Rehabilitating an old warehouse building instead of building a new structure
Switched out all halogen lights with T-5 fluorescent lights, cutting light energy usage in half
Brewing
Spent grain, spent yeast, used hops and our filter media are used as cow feed
Recycle specialty grain bags
Reduce energy usage with a heat exchanger, which reclaims heat from boiled wort and transfers it to hot water for next batch
Our original retrofitted dairy tanks are still here working as spent material storage
Use a high efficiency boiler that far exceeds regulated emission levels. It has one of the lowest emissions of any available boiler
Packaging
Channel keg washer rinse water to rinse the floor
Automated keg line saves water over manual rinsing by reusing wash water and increases efficiency with water use. It takes two people one day to do what used to require four people doing back-breaking work for a week
Chose a label manufacturer that is 10 minutes away
Save all packaging, boxes, roll cores, plastic bags, for reuse on our next run
Purchase most of our equipment used and refurbish it ourselves. Our keg washer came from Bell's. Our brewhouse is from Firestone Walker.