Recipe: Gaelic Ale Pretzels & Beer Cheese
By Lindsay Dilley, Merch & POS Coordinator.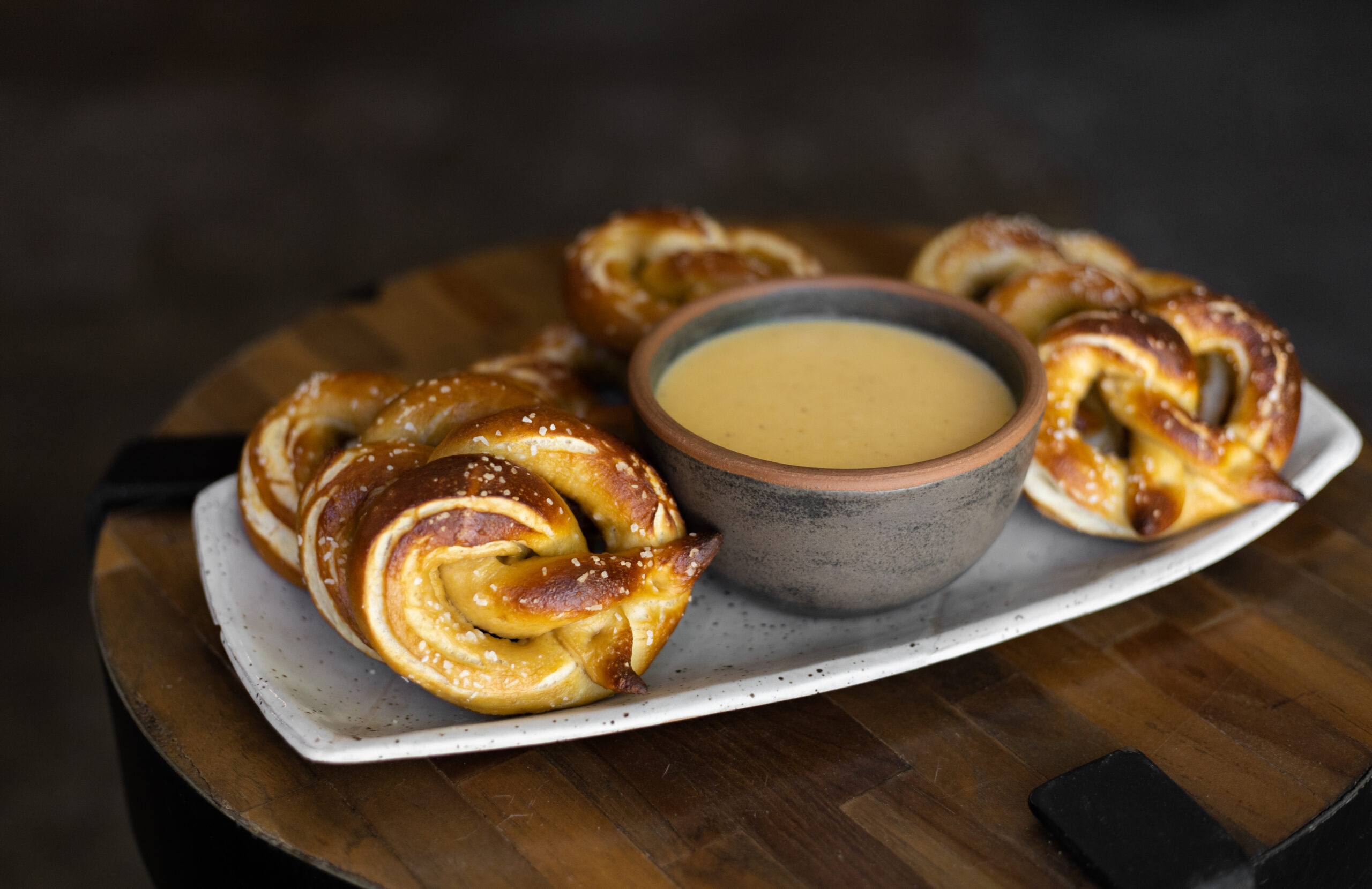 Prep: 1.5 hours
Bake: 12-14 minutes
Yields: 12 pretzels or lots of bites 
Ingredients: 
12oz Gaelic Ale
1 package (1/4 ounce) active dry yeast
2 Tablespoons unsalted butter, melted
2 Tablespoons sugar
1 teaspoon salt
4 1/4 cups all-purpose flour
10 cups of water
2/3 cup baking soda

Topping Ingredients:
1 large egg yolk
1 Tablespoon water
Coarse salt, optional 
Directions:
In a small saucepan, heat beer to 110°; remove from heat. Stir in yeast until dissolved. In a large bowl, combine butter, sugar, salt, yeast mixture and 3 cups flour; beat on medium speed until smooth. Stir in enough remaining flour to form a soft dough (dough will be sticky).

Turn dough onto a floured surface; knead until smooth and elastic, 6-8 minutes. Place in a greased bowl, turning once to grease the top. Cover and let rise in a warm place until doubled, about 1 hour.

Preheat oven to 425°. Punch dough down. Turn onto a lightly floured surface; divide and shape into 10 balls. Roll each into a 24-in. rope. Curve ends of each rope to form a circle; twist ends once and lay over opposite side of circle, pinching ends to seal. You can also roll ropes and cut into sticks or bites.

 

In a large pot, bring water and baking soda to a boil. Drop pretzels, 2 at a time, into boiling water. Cook 30 seconds. Remove with a slotted spoon; drain well on paper towels.

Place 2 in. apart on greased baking sheets. In a small bowl, whisk egg yolk and water; brush over pretzels. Sprinkle with coarse salt if desired. Bake until golden brown, 12-14 minutes. Remove from pans to a wire rack to cool.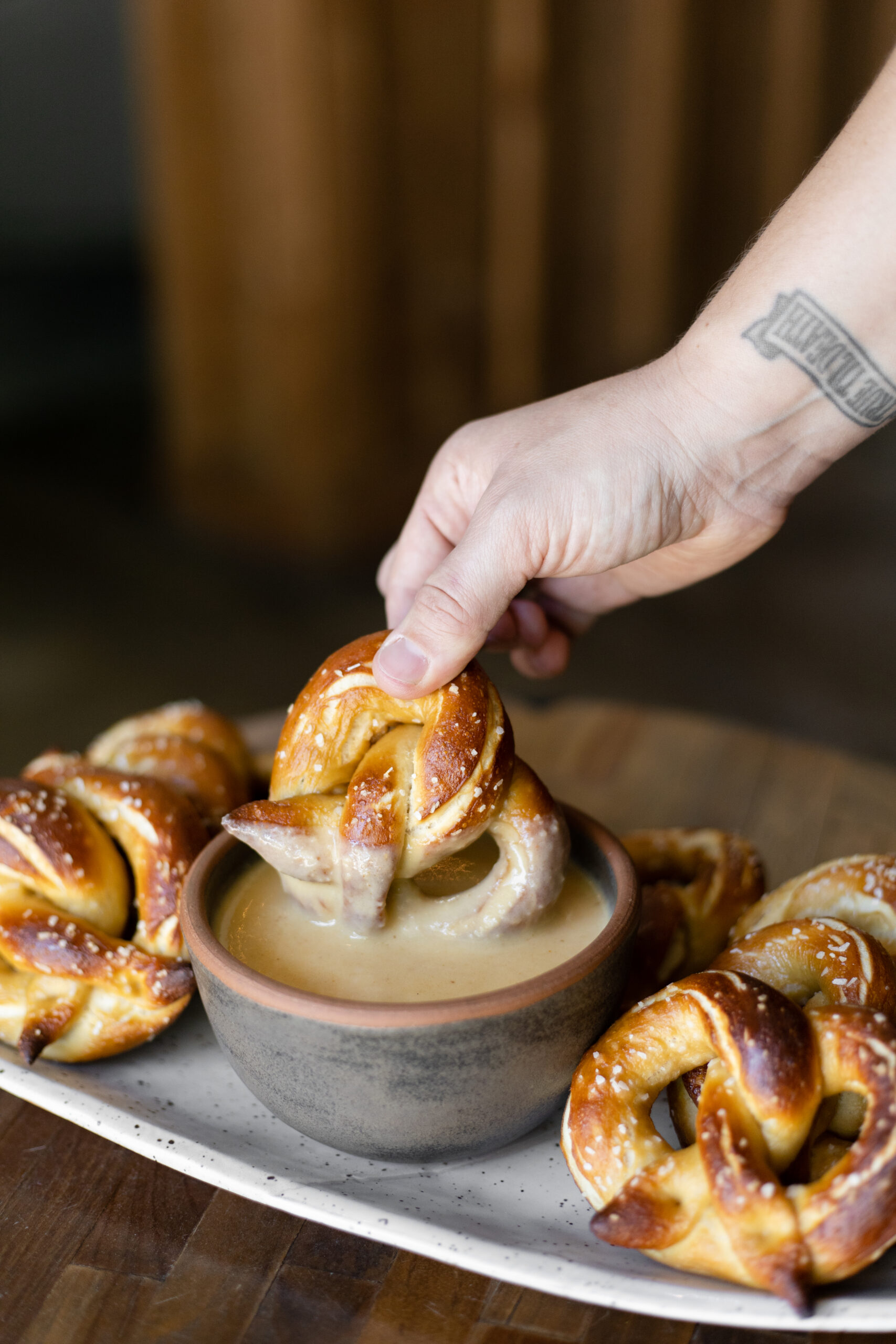 Time: 20 minutes
Yields: 2 cups 

Ingredients:
3 Tablespoons unsalted butter
3 Tablespoons all-purpose flour
3/4 cup of whole milk
12oz Gaelic Ale
1 Tablespoon Worcestershire 
1 Tablespoon Dijon mustard
1/2 teaspoon smoked paprika
1/2 teaspoon garlic powder
8 oz sharp cheddar, freshly shredded
Salt and pepper to taste 
Directions:
Melt the butter in a sauce pan over medium heat.  Add flour and whisk until it forms a paste.

Add milk and whisk in.  Heat and whisk until the milk starts to thicken, (about 3-5 minutes)
Except for the cheese, add all other ingredients and whisk together.
Turn heat to low and add cheese and stir until the cheese in completely melted.
Add salt and pepper to taste.

 
Enjoy!