Asheville's Original Brewery
Highland Brewing Company is the largest independent, family-owned brewery native to the Southeast. With a portfolio of beers that honor tradition and blaze new trails, we are proud to be Asheville's pioneer in craft and a leader in southern beer.
Highland was founded in 1994 by retired engineer, Oscar Wong. We were the first legal brewery in Asheville since prohibition. Our brewing operations began downtown in a rented basement space under Barley's Taproom. Built almost entirely of retrofitted dairy equipment, our original brewery produced 6,500 barrels of beer per year in a 12,000-square-foot basement.  We brewed in that basement for 13 years as beers like Gaelic Ale, Black Mocha Stout, and Oatmeal Porter grew into some of the region's favorite brews.
In 2006, Highland moved from the downtown basement to the former home of Blue Ridge Motion Picture Studios in East Asheville. When the movie studio folded, Highland was able to purchase the entire 40-acre property. Our production facility houses a 50-bbl brewhouse where we have the capacity to brew more than 40,000 barrels annually.  Since then, the brewery has continued to grow and expand into the 180,000-sq-ft building, adding the Taproom, Meadow, packaging hall, Event Center, and Rooftop Bar. 
Today, Highland is led by Oscar's daughter, Leah Wong Ashburn, and the brewery has grown into a regional leader with distribution across four states in the Southeast including North Carolina, South Carolina, Georgia, and Tennessee. Gaelic Ale, an American Amber Ale, remains our flagship and best-selling brand 28 years strong. More award-winning beers like AVL IPA and Highland Pilsner have since been added to our beer portfolio. 
From our hilltop campus in East Asheville, we have space for thousands of visitors to enjoy limited-release beers, live music, and outdoor activities like walking trails and volleyball courts. In addition, the Event Center, Barrel Room, and Rooftop Bar are available for private events. Through it all, Highland remains committed to quality and sustainability, boasting the sixth largest solar array in an American craft brewery and a host of other sustainable initiatives and community commitments that honor our home in the mountains.
We are excited to celebrate the next 29 years of brewing and innovation with a return to downtown through the opening of a new taproom in the S&W Market. Highland Brewing Company at the S&W Market represents an exciting return to where our story started, with new eyes, new beers, and a unique opportunity to be part of the next chapter of our hometown.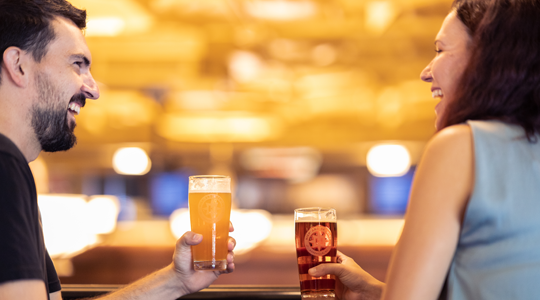 Grab a pint and enjoy our Taproom in East Asheville or visit us downtown in The S&W Market.